Stan Lee, the co-creator of countless Marvel comic book characters that have become staples in pop culture, died on Monday at the age of 95.
Lee had previously suffered a health scare in January, when he was rushed to a Los Angeles hospital after experiencing shortness of breath and an irregular heartbeat, according to a TMZ report. A representative for Lee told the outlet the next day that he was stable and would be "staying there for a few days for some check ups as a safety precaution."
In March, The Daily Beast reported that Lee was being financially "picked apart" as his health declined. Among those defrauding Lee were his daughter's former business associate and his long-time bodyguard.
Lee's daughter Joan Celia is his sole heir.
When then-editor Joe Simon and legendary artist Jack Kirby left Timely in 1941, the publisher Martin Goodman made Stan Lee ― just 19 years old at the time ― editor-in-chief.
Timely would later become Atlas Comics and finally Marvel Comics, which Lee continued running and writing for until 1972, when he took the role of publisher. Gradually, Lee factored into the day-to-day business less and less, becoming more of the figurehead and ambassador we knew him as.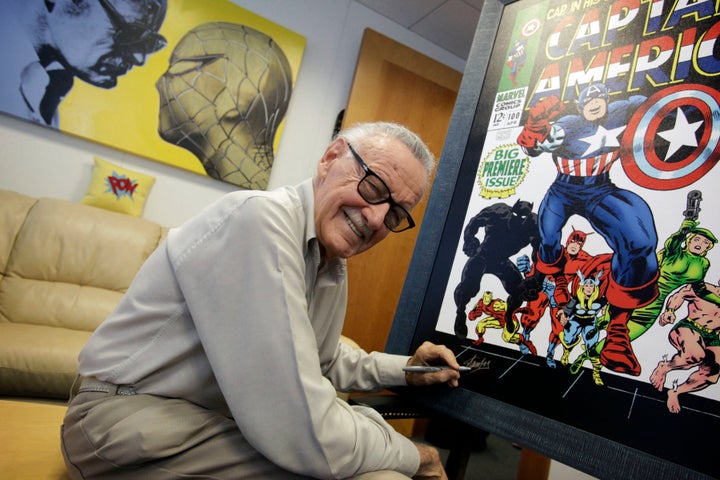 Along with the talents of Jack Kirby (who had rejoined the company), Steve Ditko and Bill Everett, Lee helped create superheroes like Spider-Man, Hulk, Thor, the X-Men, the Fantastic Four, Black Panther and Daredevil ― all of whom existed within the same universe. It's a fairly obvious concept for audiences in the era of "The Avengers" and "Justice League" films, but back then, it was a different and exciting idea.
With Kirby's signature visuals and Lee's down-to-earth prose, Marvel created a new superhero narrative that had not been seen in mainstream comics: Superheroes were no longer perfect. They had problems like ordinary people, problems they couldn't solve with superpowers. They couldn't pay bills on time, got dumped and felt depressed. His characters were relatable.
There has always been debate regarding how responsible both Lee and Kirby were in the creation of these iconic, and very lucrative, characters. But it is difficult to deny that Stan Lee played a large part in bringing this modern era of realism and grit to the comic book world.
"For years, kids have been asking me what's the greatest superpower," Lee told The Hollywood Reporter in 2016. "I always say luck. If you're lucky, everything works. I've been lucky."
CORRECTION: An earlier version of this story said Lee was survived by two daughters. His daughter Jan died at age 3 days, and he is survived by one daughter.
Originally published on Huffpost